Today the use of motorized control valves in large and small, Water Distribution, Heating and Cooling systems is very common. Large motorized butterfly valve is operated by an electric "actuator", widely used in water source projects, urban water supply and drainage, sewage treatment system, pharmaceutical, food production etc, size ranges from DN100 to DN3000. The STREGA SMART-SWITCH permits to remote control the open/close operations of these actuators on extreme range and with total security.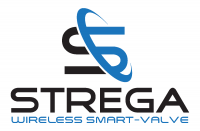 The STREGA time-controlled switch for valve actuators is a battery-operated wireless switch to remote control your butterfly valves with embedded LoRaWAN® technology. With its ultra-low-power consumption, the smart-switch can be triggered for remote OPEN/CLOSE operations. The switch is working on batteries during 10+ years (Class A) or limitless on external power supply (Class C). It communicates on extreme long distances with exceptional deep indoor signal penetration.
The LoRaWAN Smart-Switch is a cost-effective solution to remote operate your butterfly valves on very long distances
Extreme range wireless communication
Low cost operation using license free communication (no SIM required)
Industrial grade design (high noise immunity, indoor/outdoor use,..)
Secure and encrypted communication
Automatic OPEN/CLOSE of your butterfly valve by integrating directly the scheduled operation at valve site
Immediate OPEN/CLOSE command of the valve from the Control Room, when required (class C operation)
Supporting both Class A and Class C, the embedded programmable schedulers in the STREGA Smart-Switch will trigger Opening or Closing of your butterfly valve at programmed intervals, independently from the communication.   For immediate processing, the STREGA Time-controlled Smart-Switch will operate in LoRaWAN "Class C" with no latency, continuously listening to the Control Room's instructions.