An IoT platform is essentially the heart of your entire IoT solution. Building a scalable and reliable IoT platform is hard, that's why today the market is flooded with hundreds of IoT PaaS (Platform as a Service) vendors. Choosing the best IoT platform for operating your STREGA devices is much complex today than it has been ever before. Some solution are generic and can match any verticals, some others are dedicated and specific to smart-metering, farming, irrigation, leakage detection, industry, etc.
The STREGA Smart-Valves and Time-Controlled Emitter for irrigation valves are following native LoRaWAN 1.02 standards. Many SCADA and Cloud platforms are compliant with our devices. Not all support the schedulers and other enhanced features we offer but basic Open/Close operations are supported by all.
The non exhaustive list below provides an overview of the different proven solutions, compliant with the STREGA devices.
STREGA Mobile App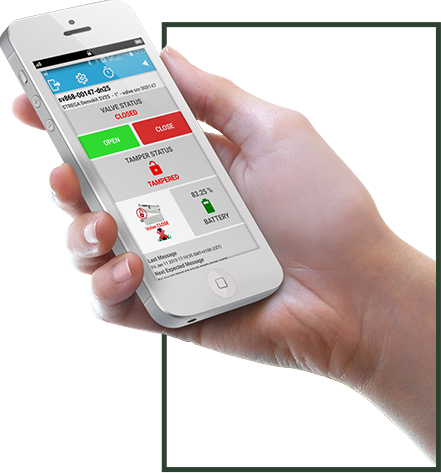 More a utility than a platform, this Android or IOS mobile application provides a seamless integration of all facets of the STREGA devices: open/close, change of UL frequency, time synchronization, geolocation, schedulers support and many more.
But its goal is not to replace an full-fledge platform: it runs on smartphone (or tablet) only and its use maybe sufficient for a small to medium number of devices (few dozens). It runs today on several Network Servers like TTN, Orange Live Objects, Kerlink Wanesy, MESHED, The Things Industries, etc.
Developer: STREGA
Platform: Android or iOS
Price: free
Features: Open/Close, schedulers support, geolocation, time synchronization, etc.
SMART-VALVE STUDIO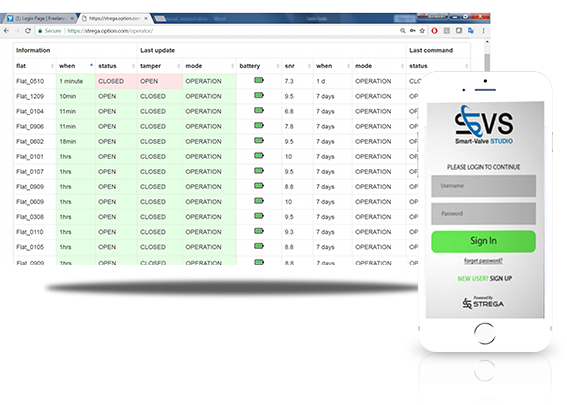 Developed by OPTION, this application runs on Cloud or on premise. The solution offers a seamless integration of the STREGA valves for massive deployment of devices. This platform targets mainly smart-metering, district cooling and district heating projects.
Developer: OPTION (www.option.com)
Type: dedicated to Smart-Valve only
Platform: Cloud or on premise
Price: contact Option for pricing
Features: monitoring and control of Smart-Valves, easy SV deployment by XLS integration: targets massive deployment of devices within minutes
IoT-in-a-BOX
IoT in a Box™ by myDevices is one of the leader in turnkey, fully-automated monitoring solutions for a variety of vertical markets. With IoT in a Box, users are enabled to remotely monitor their STREGA devices around the clock. These pre-packaged solutions integrate a LoraWAN™ ethernet or cellular gateway with long-life sensors – like the Smart-Valves or Smart-Emitters – and an iOS/Android mobile application, and take only minutes to set up. Gateways and sensors can be mixed, matched, and scaled to meet a wide variety of IoT challenges. Real-time reporting ensures users can manage their inventory and assets before costly problems arise. If a problem is detected, users will receive instant, actionable alerts. IoT in a Box delivers time and money savings that set the industry standard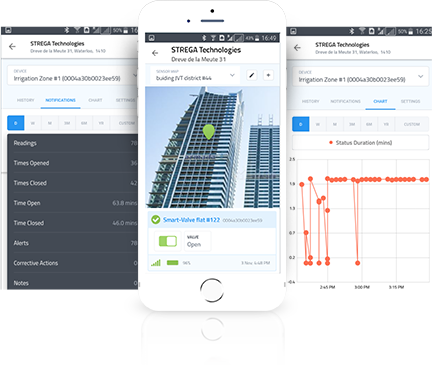 Developer: myDevices (www.iotinabox.com)
Type: multi-purpose
Platform: Cloud
Price: contact myDevices for pricing
Features: monitoring and control of Smart-Valves or Smart-Emitters: scan QR code and you're immediately on line with your STREGA devices. Warning: no schedulers support yet.