An IoT platform is essentially the heart of your entire IoT solution. Building a scalable and reliable IoT platform is hard, that's why today the market is flooded with hundreds of IoT PaaS (Platform as a Service) vendors. Choosing the best IoT platform for operating your STREGA devices is much complex today than it has been ever before. Some solution are generic and can match any verticals, some others are dedicated and specific to smart-metering, farming, irrigation, leakage detection, industry, etc.
The STREGA Smart-Valves and Time-Controlled Emitter for irrigation valves are following native LoRaWAN 1.02 standards. Many SCADA and Cloud platforms are compliant with our devices. Not all support the schedulers and other enhanced features we offer but basic Open/Close operations are supported by all.
The non exhaustive list below provides an overview of the different proven solutions, compliant with the STREGA devices.
STREGA Mobile App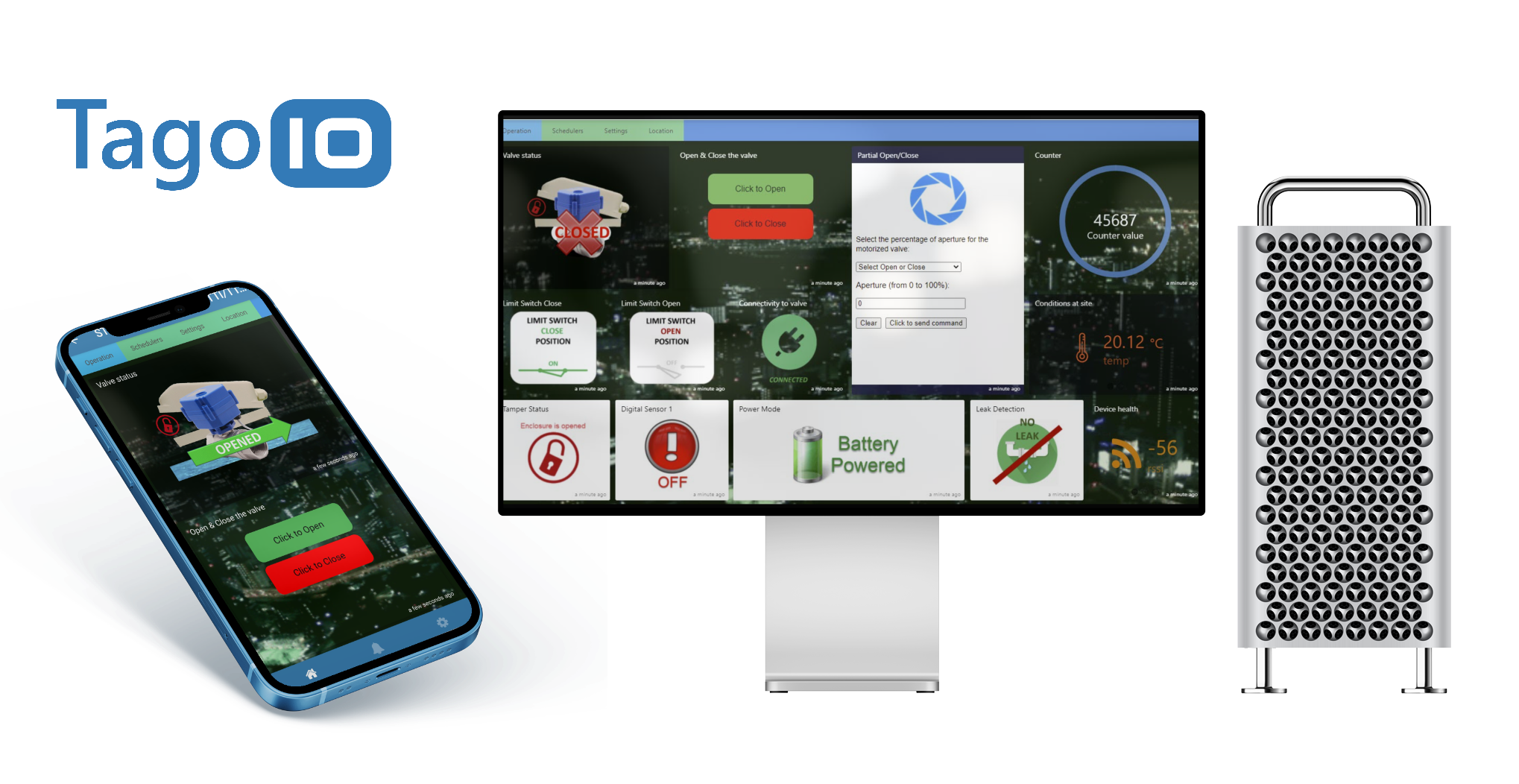 STREGA is platform agnostic, but we understand you want to try our technology first. We propose a WEB and mobile platform (Android or IOS) powered by the TagoIO engine to control your STREGA devices. The tool is free to use up to 5 devices and 5 dashboards. The App provides a seamless integration of all facets of the STREGA devices: open/close, change of UL frequency, time synchronization, geolocation, schedulers support and many more.
It runs today on several Network Servers like The Things Stack, TTI, ChirpStack and soon on many other LNS. You can add other sensors of your choice to the dashboards.
Developer: STREGA and TagoIO
Platform: Android, iOS and WEB
Price: free up to 5 devices and 5 dashboards – contact TagoIO for other plans
Features: Open/Close (or ON/OFF), schedulers support, geolocation, time synchronization, magnet control, trends, alarms, scripting, reporting, etc.
SMART-VALVE STUDIO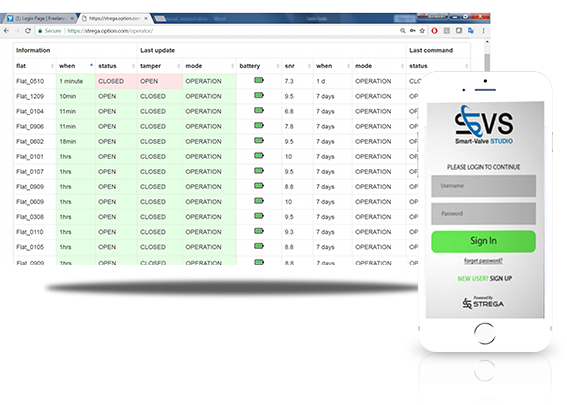 Developed by OPTION, this application runs on Cloud or on premise. The solution offers a seamless integration of the STREGA valves for massive deployment of devices. This platform targets mainly smart-metering, district cooling and district heating projects.
Developer: OPTION (www.option.com)
Type: dedicated to Smart-Valve only
Platform: Cloud or on premise
Price: contact Option for pricing
Features: monitoring and control of Smart-Valves, easy SV deployment by XLS integration: targets massive deployment of devices within minutes
Datacake
Datacake is a multi-purpose, low-code IoT platform that requires no programming skills and minimal time to create custom IoT applications that can be brought into a white label IoT solution at the push of a button. In addition to many integrations for popular IoT ecosystems, the Datacake IoT platform brings deep integration for the LoRaWAN ecosystem. Devices can be created via templates and visualization and corresponding database functions are immediately available to the user without programming. Downlinks to control devices can be sent to the dashboard at the push of a button or automated via IFTTT-style rule engine. Adapters are also available for use with a wide variety of LoRaWAN networks.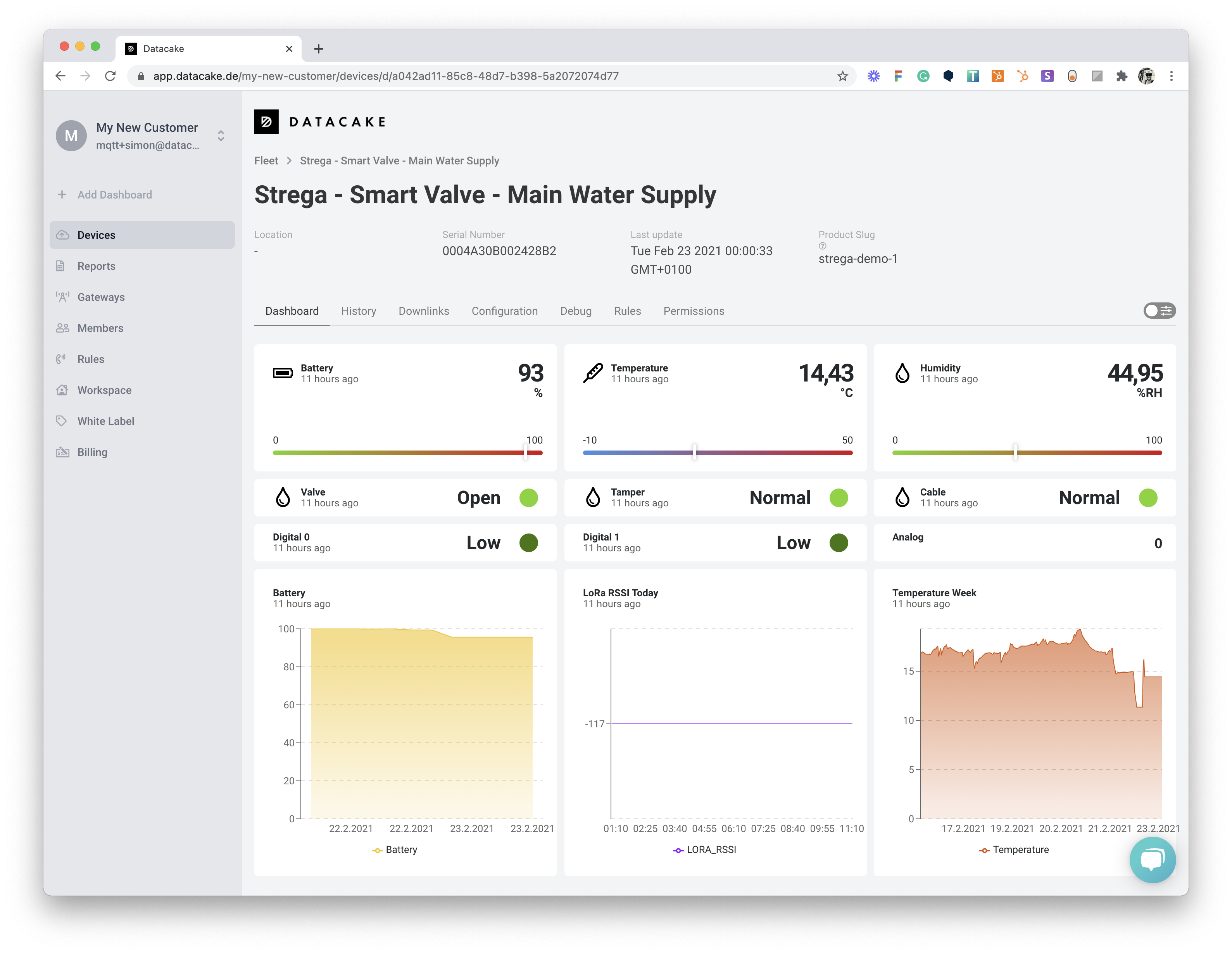 Developer: Datacake (www.datacake.co)
Type: multi-purpose
Platform: Cloud
Price: contact Datacake or see the pricing page
Features: the advantages of the Datacake platform lie in its simple structure. Devices and network can be added at the push of a button. There is a white label section so our customers can easily build their own portal. No programming or other knowledge is required to use the platform.
IoT-in-a-BOX
IoT in a Box™ by myDevices is one of the leader in turnkey, fully-automated monitoring solutions for a variety of vertical markets. With IoT in a Box, users are enabled to remotely monitor their STREGA devices around the clock. These pre-packaged solutions integrate a LoraWAN™ ethernet or cellular gateway with long-life sensors – like the Smart-Valves or Smart-Emitters – and an iOS/Android mobile application, and take only minutes to set up. Gateways and sensors can be mixed, matched, and scaled to meet a wide variety of IoT challenges. Real-time reporting ensures users can manage their inventory and assets before costly problems arise. If a problem is detected, users will receive instant, actionable alerts. IoT in a Box delivers time and money savings that set the industry standard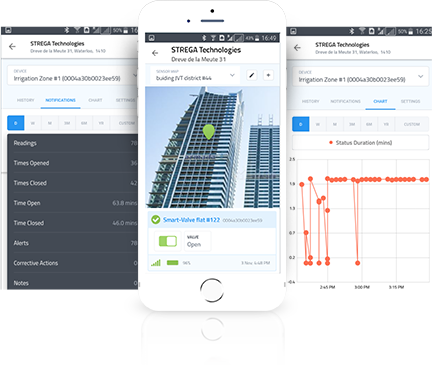 Developer: myDevices (www.iotinabox.com)
Type: multi-purpose
Platform: Cloud
Price: contact myDevices for pricing
Features: monitoring and control of Smart-Valves or Smart-Emitters: scan QR code and you're immediately on line with your STREGA devices. Warning: no schedulers support yet.
Ginjer

by SENRA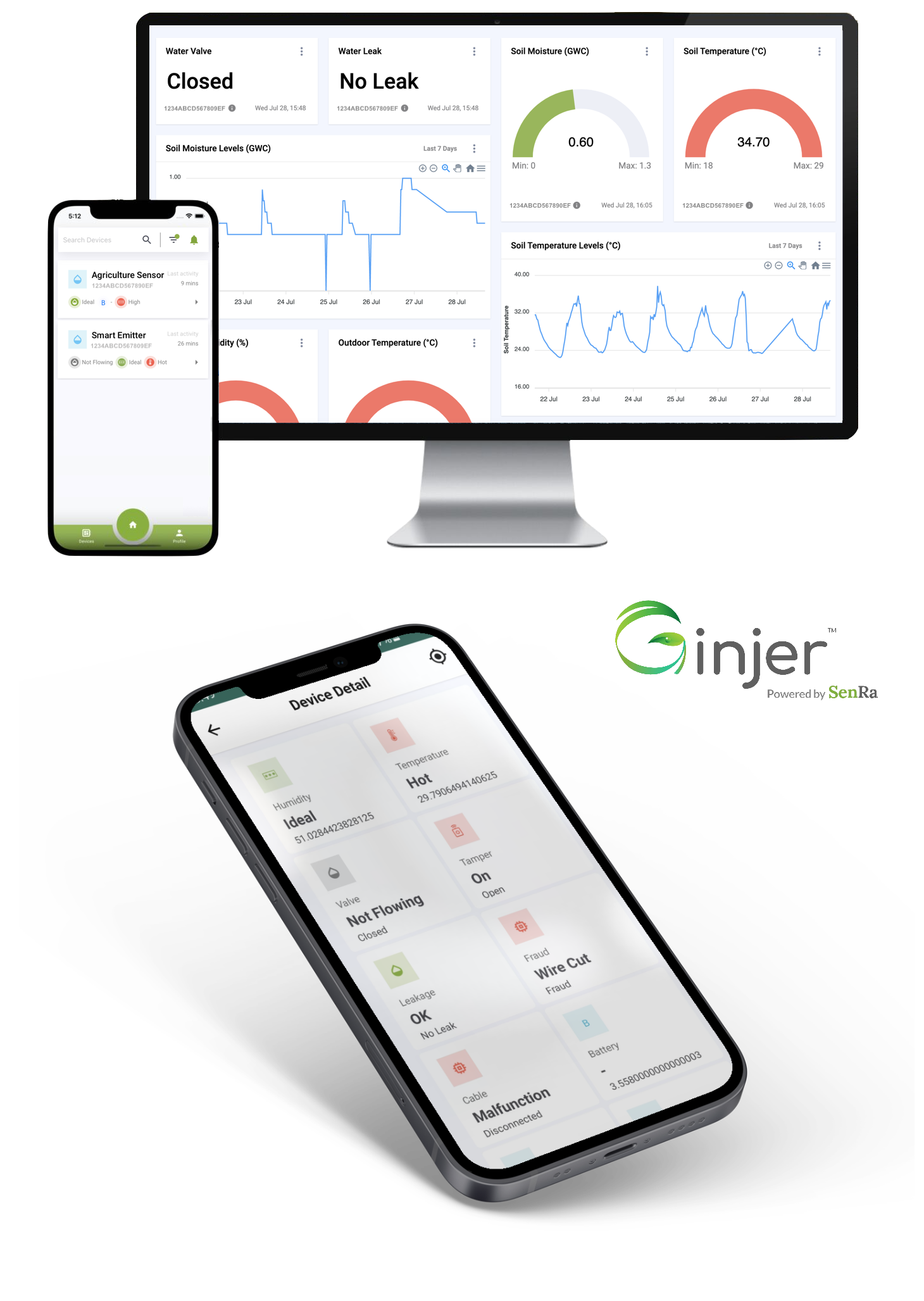 The Ginjer IoT Analytics Platform (https://www.ginjer.io) introduces a new low cost approach in deploying IoT solutions. Ginjer helps accelerate business decision making with powerful reporting tools and real-time data visualization, coupled with customizable device clusters, device management capabilities and user access management features. Companies can now deploy end-to-end solutions in shorter amount of time.
Developer: SENRA – see www.ginjer.io
Platform: Cloud (network agnostic)
Type: multi-purpose
Price: contact SENRA for pricing
Features: the Ginjer IoT Platform is a fully managed solution that allows you to easily and securely manage IoT data and devices at scale. Ginjer is agnostic to the communication protocol providing customers the ability to leverage the power of the platform with their network of choice. Management of devices, data visualization, and API integrations for mobile application development are all managed and maintained from Ginjer.