The STREGA LoRa wireless smart-valve helps to prevent water damages caused by unexpected leaks. Figures talk by themselves; 1 in 5 buildings present costly leaks any given year.

Leakages typically represent 10-30% of the water consumption in retail and we have to admit that only 5% of leakages are reported by occupants or spontaneously discovered by maintenance staff.

Unreported water leaks is contributing up to 60% of your water bill ! Insurance companies are clear on the subject: homeowners are 12 times more likely to have a water damage claim than a fire, and three times more likely to have a water issue than a theft.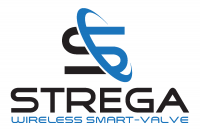 There are dozens of good ways to detect leaks in home and buildings: from simple water detection probes to wireless flood sensors and accurate water usage monitoring. All these methods can be combined to alert the owner of a possible water leak before it's too late. Adding a smart-valve that will automatically shut-off the water mains prevents damages at the very early stage of the issues.
The STREGA Smart-Valve can be directly wired to a very simple and cost effective water probe and shut off the water mains when water is detected by the leak sensor.
Sophisticated solutions are mixing other wireless sensors and the right analytical Cloud platform sothat the water valve can close itself autonomously in case leaks or burst pipes are detected.
Leak detection triggers immediate water shut-off !
Extreme range wireless notification
Install and forget: battery operation for 10-15 years
Long lasting valve material that does not require regular sediment turns
Daily keep alive sent to the Application (smartphone or control room)
Automatic shut-off on water detection from the the wired probe
Can be combined with water meter consumption analytics
How it works ?
This video explains how a STREGA LoRaWAN Smart-Valve combines wireless notification of a leak detection and its automatic shut-off.
The demokit is made out a STREGA FULL edition Smart-Valve, a water meter from ZENNER with pulse outputs and a simple water detection probe wired to the STREGA device.
LNS used is The Things Industries (v3 stack) which shows the Uplink payloads arriving to the Server when valve is triggered to shut-off whenever leak is detected.